Projects 1
Monument sign we cut for local subdivision.
We cut this out of 1/4" thick steel. The customer designed and installed it, we partner with many businesses allowing them to expand there capabilities.
Another part of the same monument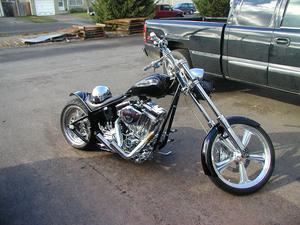 A very clean custom chopper
Jerry Mallory a Local bike builder's personal bike.
I'm not a Harley guy but I love this bike, we cut several parts for this bike, including some large swingarm and frame components. We cut parts for several local bike builders, and some guys who are just building there own. He just put a new motor in it and it thumps hard.